"Follow the brick road to the Emerald City. The Wizard is there." – Ojo, to Dorothy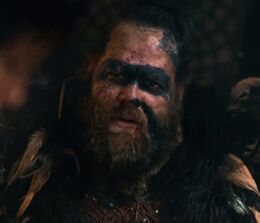 Ojo
is a character on NBC's
Emerald City
. He is portrayed by
Ólafur Darri Ólafsson
.
Biography
Background
Ojo is apart of a community of Munchkins, who reside in the eastern region of Oz.
Season 1
Shortly after Dorothy's police car accidentally runs over the Witch of the East, Ojo warns Dorothy of the witch's sisters of the West and North. He aids Dorothy by pointing her towards the yellow brick road that leads to the Emerald City, to the Wizard.
Family/Relationships
Trivia
He is based on Ojo the Lucky from the Oz books, written by L. Frank Baum.